Students benefit by becoming involved in professional student organizations in engineering. You get to travel to national engineering conferences and practice your design skills in undergraduate competitions. It's a great way of building up a professional network, securing gainful employment, and exploring graduate school options.
Society of Hispanic Professional Engineers (SHPE)
I am the faculty advisor for JMU SHPE Student Chapter. SHPE is a national networking organization of professional engineers serving as role models in the Hispanic community. SHPE Student Chapters interface with the national organization in its mission of positively impacting the world through STEM awareness, increasing access to education, supporting its young members, and lifelong professional development. Students can compete in national engineering design challenges and present their undergraduate research at forums. The SHPE Career Fair and Graduate School Expo regularly brings in over 100 major companies and universities, who aggressively recruit SHPE student members. Learn more about student national membership to SHPE by clicking on this link. You can reach out to the JMU SHPE Student Chapter via shpe.jmu@gmail.com and/or follow them on Instagram @shpe_jmu.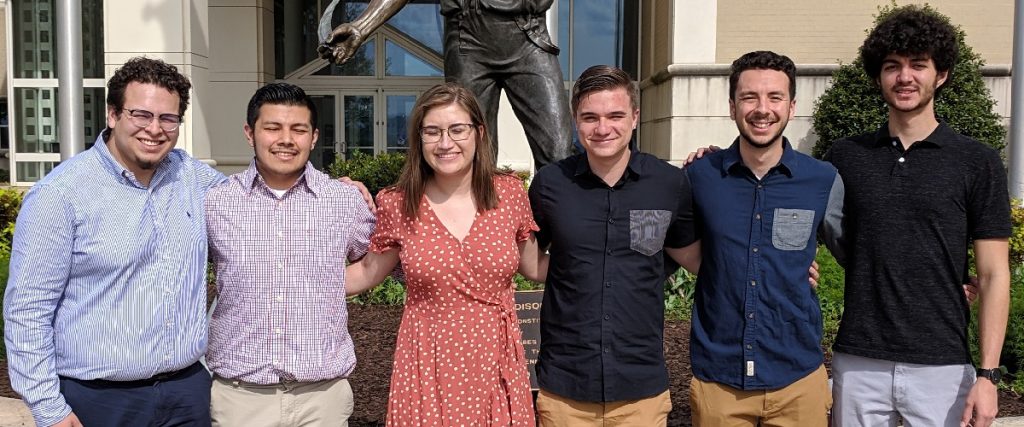 Other Student Organizations
Listed below are national organizations that I would like to start a student chapter for at JMU. Please reach out to me if you're interested in founding any of these student chapters.
American Concrete Institute (ACI) – A leading authority on structural engineering (e.g. ACI 318 Building Code) and materials engineering (e.g. ACI 562 Repair) in the United States. Students can compete in nationally recognized undergraduate competitions, win scholarships, and gain access to resources aimed at students. National conferences are scheduled in the Spring and Fall, in various locations across North America. Learn more about student membership to ACI by clicking on this link.
American Society of Civil Engineers (ASCE) – The nation's oldest engineering society representing over 150,000 members, ASCE organizes initiatives that supports the civil engineering profession in planning, designing, and constructing the built environment, while protecting and restoring the natural environment. Student chapters coordinate with Professional Branch Chapters in technology exchanges that support student professional development. An ASCE student chapter also opens up the possibility of a Concrete Canoe Student Team. Learn more about free student membership to ASCE by clicking on this link.